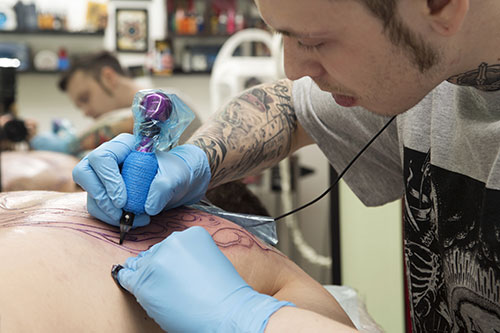 Infection Control For Tattooists, CPD Certified Online Training Course
If you are working as a tattooist then there is a requirement for you to hold valid and up to date infection control certification to help protect yourself and keep your clients free from infections that could occur within the tattooing studio.
We can help you stay compliant with your infection control training requirements by offering an online infection control training tattooists course, which is CPD certified and conducted using video based instruction.

Once you have completed the simple registration process, by clicking the "Begin Training" button on the left you will be able to download all course materials, so that you can follow the course content and structure as you progress throgh the course.
Training is conducted using video based instruction and each video can be paused, or rewound to gain a better understanding of the training content as you progress.
Some Course Content is Listed Below
Introductory Training, What are Blood Borne Pathogens and Current Legislation
Types of Blood Borne Diseases, HIV and AIDS, Hepatitis B  & C Virus
Skin Diseases and Other Viruses
Engineering and Workplace Practice
Cross Contamination and Reducing your Risk
Body Fluid Clean up, Hazardous Disposal Procedures including Glove Removal and Disposal
Hand Hygiene and Basic Food Hygiene
Exposure Incident
Clean Technique Tattoos
Our online infection control course Tattooists training programme is an ideal training solution for individual tattooists and body piercing specialists as the course can either be completed at home, or at work through your secure training area.